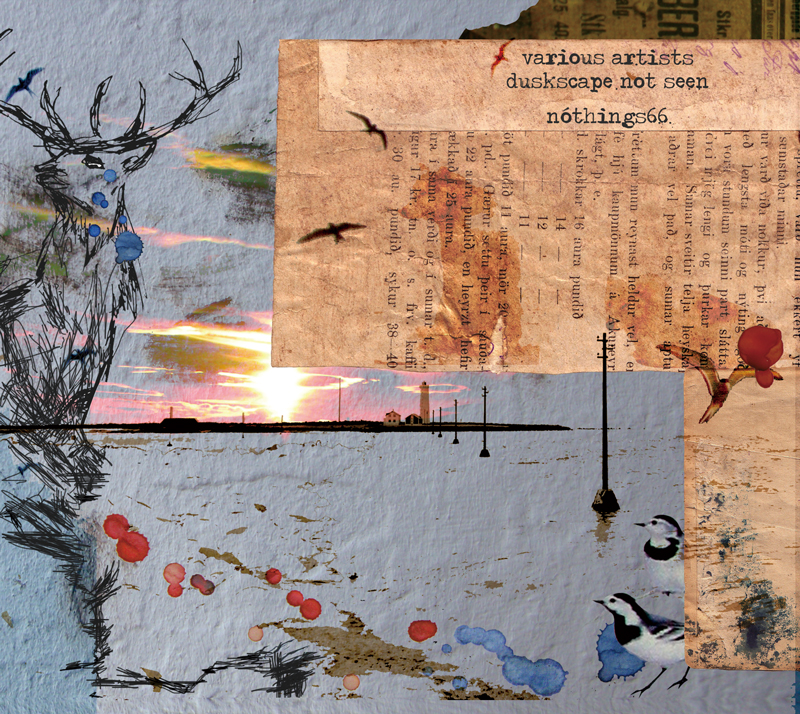 various artists - duskscape not seen
01. The Gentleman Losers - Honey Is Sweeter Than Blood
02. Color Cassette - Pastoral Picture Show
03. Crisopa - O-P-Q-A
04. Helios - Carry With Us
05. Dub Tractor - Fall In Love Like This (reworked for nothings66)
06. Ozy - Night Shift 33C
07. Yagya - Finite Permutations
08. Ths Sight Below - Life's Fading Light
09. Fieldhead - Almost Everything There Is To Know
10. L'usine - Fog (Original Version By Funckarma)
11. September Collective - Out Of Intention
12. Mou, Lips! (Andrea Gabriele) - "I... the cassette... you"
13. einn kottur - ekkert
14. Ezekiel Honig - Removed Images And The Eventual Wall
15. dot i/o (a.k.a. mito from clammbon) - BUTON
16. Stafraenn Hakon - Son Of Meat
17. aMute - Drive
18. Sketches For Albinos - Bedroom Eyes
19. Sons Of Magdalene - Things Said When The Firmament Falls
20. Goldmund - Hope Avenue
Release Date : February 2010
Cat# : N66CD001
Format : CD ( Special Digipack Edition ) / Digital
Overseas : check nothings66 webshop / bandcamp or your fav shop
Japan : 1,400 jpy ( with tax )

The first release of new-born label nothings66 compiles; Helios and Goldmund from the Type Records, leading artists in the current electronic music scene, Lusine and The Sight Below from prestigious record label Ghostly International, Dub Tractor and The Gentleman Losers' new album recently released in 2009 at distinguished Ger-man label City Centre Offices, September Collective, a band by Stefan Schneider (Mapstation, To Rococo Rot), Paul Wirkus and Barbara Morgenstern, Sons of Magdalene, a solo unit by Joshua Eustis from Telefon Tel Aviv, Color Cassette, releasing a bestselling new album from Autres Directions, aMute, released by Intr_version and now launching their own label Stilll, Crisopa, a popular shoegaze artist in Spain and having numerous fans also in Japan, the head of Anticipate Recordings, Ezekiel Honig, performing at Plateaux Fes and also Mutek 2009, Mou,Lips!, from mOAR and recently also known as Pirandelo, Fieldhead, from Home Assembly and also performing in The Declining Winter. From Iceland, Yagya, performing at Iceland Airwaves 2009 from Sending Orbs, Ozy, once releasing albums from Force Inc. and Trapez, Stafraenn Hakon, releasing also from well-known Nature Bliss and set to tour the EU soon, Sketches for Albinos, performing also at Iceland Airwaves 2009. And from Japan, an interlude of dot i/o, from Clammbon performing at Electraglide2009 (warp20). This compilation offers a unique and united view of the world with various sounds resounding from the abyss and soaking straight into your heart. This album is a breath of fresh air from Northern Europe. Its tasteful selection of artists appeals not only to those new to this kind of music but also to more appreciative listeners. This special edition contains 20 brilliant tracks made of numerous unreleased tracks form talented artists! You may be able to see the story which you have not seen ever. *16 unreleased + 4 exclusive tracks!!